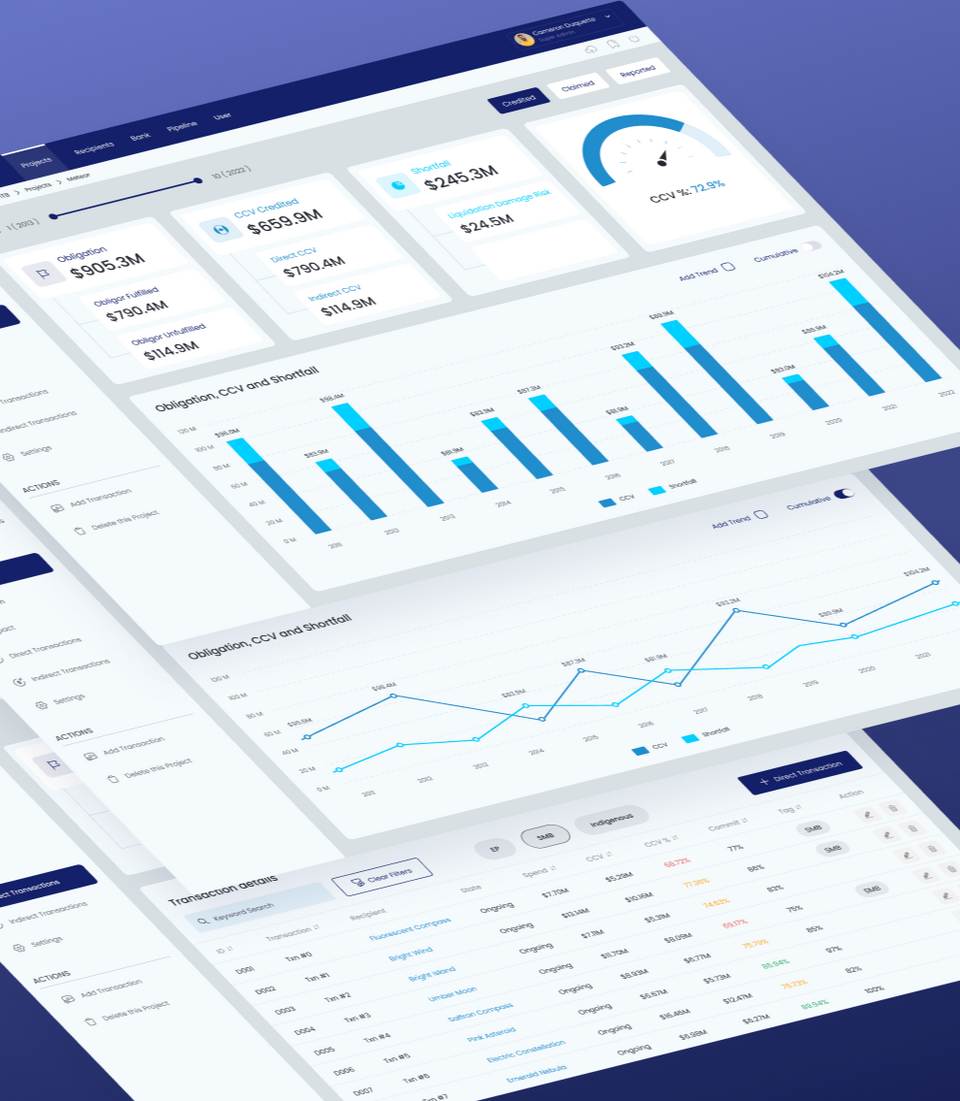 TRACK OFFSETS
Reduce Risk; Improve Compliance
Custom Built Tool for Canada's Industrial and Technological Benefits (ITB) Policy
Reduce Clutter of Spreadsheets, Emails
Data Management
Capture data from vendors, recipients, transactions, reports, and more, in one spot. Ready for system integration.
---
IMPROVE EFFICIENCY AND PERFORMANCE
Reporting and Dashboard
Automatic reporting and analytics-ready. Vendors can self-report and monitor performance. Reduce administrative burden.
Product Offering
Low Price for Long Term Success
We offer three licensing plans: Eligible Party (EP), Recipient Reporting, and Obligor (Prime). Pricing is annual.
---
Eligible Party (EP)
Designed for Eligible Party (Vendors with ITB commitments). Manage obligations and reporting. Includes Enterprise view and Project view. Organization Plans are available at a discount.
---
Recipient Reporting
Designed for Obligors to collaborate with Vendors, Eligible Parties, Recipients and Donors. Recipients can log in, submit reports, and view performance. There is no additional cost for Recipients to use.
---
Obligors (Prime Contractor)
A fully integrated solution designed for Obligors to manage ITB Programs. Includes automated ISED reporting, complete project tracking, specialized EP views, and the ability to invite recipients to submit their annual reports. There is no additional cost for Recipients to use.
---
Portable | Integratable | Customizable
Portable - Deploy anywhere, cloud or on-premise.

Integratable - Flexible backend system integration.

Customizable - Easy to customize and configure.
Any Offsets; Anywhere
Global Offsets
Do you need a tool for managing Global Offsets? We can customize the tool to meet Offsets programs in major countries. Contact us for more information: info@gochartd.com
System Solution for Manual Process
Digital Transformation?
We specialize in Offsets and develop custom solutions for managing defense offsets. Digital first and data-driven approach ensures a consistent and reliable system for seamless integration with Finance, Commercial, and Supply Chain.